What is a Body Corporate?
If you own property under a unit title, you're part of a Body Corporate such as Strata. It's a legal entity of its own, making you and your fellow owners jointly responsible for such things as paying levies and caring for common areas. Keeping it running smoothly is a lot of work, but a professional Body Corporate management company can take care of many of these tasks for you.

How We Can Help You
You have enough to think about without adding building insurance, financial reports and dispute management to the mix. Let us do the hard work so you can quietly enjoy your property. You'll have peace of mind knowing that your legal responsibilities are being met, and we'll give you accurate information and sound advice.

Working With Us
With Strata, your Body Corporate is in safe hands. Your money is kept in a trust account that's reconciled monthly and audited independently every two months. You'll also have 24/7 access to your account through our secure owner portal. Switching to Strata is easy – we'll take care of all the formalities at no cost.
ABOUT STRATA TITLE ADMINISTRATION
Our Aim Is To Help You Quietly Enjoy Your Property
Established in 1996, Strata offers extensive experience in conflict resolution, team building and business negotiation. The Strata team of more than 25 includes people qualified in property law, accountancy, valuation, property management and property insurance.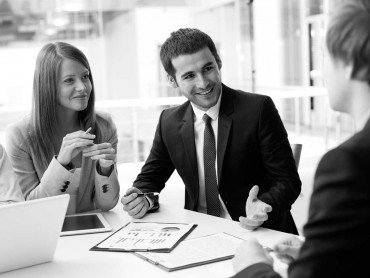 Our Values
People Matter.
We build relationships based on trust and respect.
We're Courageous.
Standing still won't get us there. Standing up when it matters will. We're not here to pick fights – just to tell the truth.
You Can Depend On Us.
We do what we say we will. Each of us at Strata owns our own work.
We Know Our Stuff.
We apply our ever-growing experience to solving your problems.
We're Professional, Transparent and Impartial.
We uphold these values in our presentation and how we handle ourselves.
Success Matters.
We want to get better, learn new things, grow our influence and celebrate our wins. It's more fun that way.
---
Our Services
Strata is here to make your life easier. Our services include:
– Arranging competitive insurance quotes
– Collecting levies
– Debtor control
– Preparing annual budgets
– Attending Annual General Meetings
– Distributing correspondence
– Preparing annual financial reports
– Paying invoices and expenses
– Investing surplus funds
– Attending to queries
– Arranging long-term maintenance plans
– Dealing with third parties
– Recommending contractors for repairs and maintenance
"By connecting and being part of a community with a shared vision and goals, we can create great things."
― David J. Greer, Wind In Your Sails
Join Strata! Call us today on 09 307 3721 or 0800 7 STRATA